Customer Relationship Management (CRM)
From prospect to customer: centralized features to help to surpass your sales goals
Watch demos
Retain your Customers and Acquire New Business
---
Manage all information on your sales campaigns, follow up on prospects, pipelines, activities, opportunities, calendars and sales forecasts.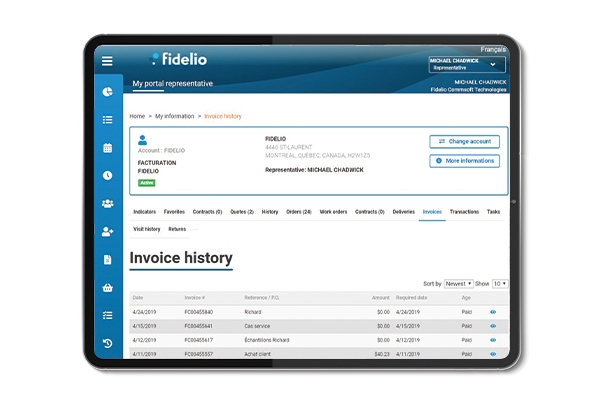 Follow-up on Current and Potential Customers Using a Centralized CRM
CRM allows stakeholders from different departments (marketing, sales, customer service and more) to access all the same information about the activities and communications with customers and prospects.
Simplify Planning, Implementation and Analysis of your Prospecting Campaigns
All your information is collected in the CRM. Target the right offer to the right person at the right time.
Precisely Anticipate your Sales Opportunities
CRM allows you to set realistic goals based on data in your pipeline.
Optimize your client relations and sales operations
---
Prospecting campaigns
Opportunities and bids
Reminder calendar
Contacts
Activities
Mass Mailing

"Our sales force can access our CRM on the road to quickly see information on our customers and take their orders with a tablet or a smartphone. It's a true value-add for my business."
Nicolas L. , Vice-President, Les Dépendances
Explore all Fidelio ERP features
---
LEARN MORE ABOUT OUR PRODUCTS AND SERVICES
Schedule a demo with one of our experts and quickly identify your needs.