100% integrated: information flows in real time
---
Directly developed in Fidelio ERP, from the same database, commands are processed in real time and data does not have to be entered again. Inventory and other information are automatically updated across the whole of the ERP system.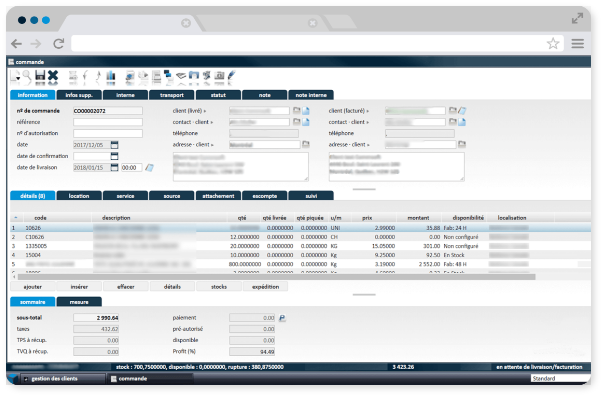 Use the Same System for your Sales and E-commerce
E-commerce gives you direct access to product views, submission creation, order taking, order tracking and account statements.
Allow Your Customers to Order your Products 24 Hours a Day, 7 Days a Week
Increase your sales volume without adding staff. Online sales simplify the purchase process for several clients.
Your Customers can Track their Orders Online
Minimize phone calls from customers who wish to make follow-up. They will be pleased to be able to check on orders themselves on the website.
Optimize the Operations of your Company
---
Product catalogue
Secure online payment
Transaction and billing history
Shopping cart
Product configurator

« Grace à mon nouveau e-commerce Fidelio, j'ai augmenté mes ventes de 25% sans embaucher de nouvel employé. De plus, mes clients impriment leurs factures et leurs états de compte directement par Internet. »
Martine L. , Distam
Explorez les autres fonctionnalités de l'ERP Fidelio
---
LEARN MORE ABOUT OUR PRODUCTS AND SERVICES
Schedule a demo with one of our experts and quickly identify your needs.