Make your Sales Representatives' Lives Easier on the Road
---
Automate your representatives' activities on the road. Integration with a mobile solution allows you to follow-up on sales objectives, prospects, appointments, orders and inventories, anywhere and any time.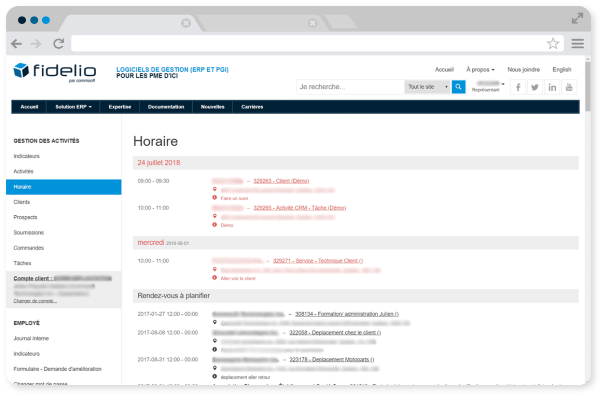 Even on the Road, Your Representatives Have Real-Time Access to your Inventory
With many representatives on the road, it is crucial to have a continuously updated inventory. Since the order taking tool is an integral part of the ERP, information is automatically updated.
Wow Factor
With a tablet or smart phone in hand, representatives that are meeting customers are able access to all the information in your company's CRM and ERP. They are able to offer a full and personalized service even if they are not in the office.
Simplified Sales
The representatives can see the quantities available in the warehouse, but also upcoming availability dates. They also have access to the customer's order history to advise them on the amount they should order. Offered discount or applicable promotions are instantly calculated. The representatives can even improve their sales by proposing related products based on the customer's preferences.
This Module's Popular Features:
---
Potential customer follow-up
Order taking
Merchandising
Appointment taking
Stock view
Price lists and promotions

« Grace à mon nouveau e-commerce Fidelio, j'ai augmenté mes ventes de 25% sans embaucher de nouvel employé. De plus, mes clients impriment leurs factures et leurs états de compte directement par Internet. »
Martine L. , Distam
Explorez les autres fonctionnalités de l'ERP Fidelio
---
LEARN MORE ABOUT OUR PRODUCTS AND SERVICES
Schedule a demo with one of our experts and quickly identify your needs.